We commit to providing safe and supportive environments which nurture the wellbeing of all students and staff in our community, and hold firmly to the belief that they have a right to be safe, respected and valued in an inclusive environment. We know that when students are happy, they are more engaged with their learning.
Schools benefit from wellbeing initiatives and pastoral care support through Sydney Catholic Schools – in areas such as anti-bullying, positive behaviour, student counselling, refugee support and child protection – which range from universal support for all students, to targeted interventions for students with complex social and emotional needs.
The retreat program at the college has been designed to provide students with a range of experiences and encounters from a variety of presenters. The rationale behind the program across the year groups is that they provide the opportunity to deepen relationship with God, developing a deeper understanding of self whilst forming bonds of connection with peers and staff.
Year 7 students are introduced and welcomed to the global Lasallian family with their retreat day led by the Year 11 Lasallian Youth leaders of the college. Year 8 and Year 10 students are supported in their ongoing development as young men of faith in their retreat days based on male spirituality, while Year 9 are led by the Young Lasallians in coming to a fuller understanding of themselves in connection with God and others.
The Year 11 Retreat, True to You is a two day experience which encourages students to have the courage to be authentic in presenting themselves to the world, loved and gifted by God. Following on from this, the Year 12 experience of Called and Sent was developed to flow on from this learning, to challenge students to change the world using their particular gifts in the service of others.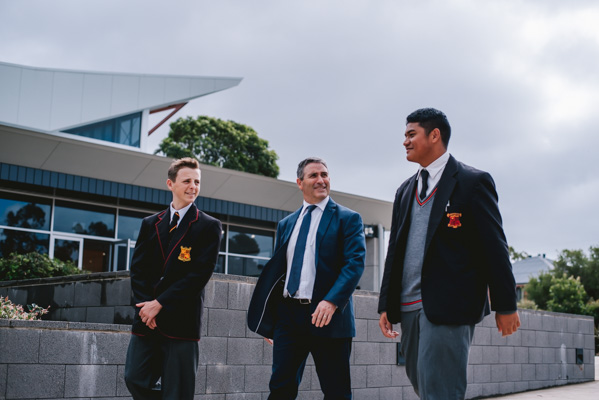 Sydney Catholic Schools rejects all forms of bullying behaviours, including online (or cyber) bullying, by maintaining a commitment to providing safe, inclusive and respectful learning communities that promote student wellbeing for learning. Staff at Sydney Catholic Schools are committed to employing wellbeing strategies that allow for a healthy school environment where bullying is less likely to occur.
If your child is experiencing bullying of any kind, or you have a wellbeing concern, we have a number of support services available for parents/carers and students, as listed below.
Support services: