Sport is an integral part of college life at De La Salle Revesby Heights. Since its inception in 1960, the college has been involved in competitive sport across many disciplines ranging from individual sports such as swimming, athletics and tennis through to team sports including cricket, basketball, and rugby league.
In its early days, the college had a reputation as a fierce rugby league playing school and was supported by the Canterbury-Bankstown Bulldogs, competing and winning numerous competitions including NSW state titles. Athletics and swimming were also popular, with the college taking out school swimming and athletics championships. The college was also the first Catholic school to take out the NSW State Championship for Life Saving Award.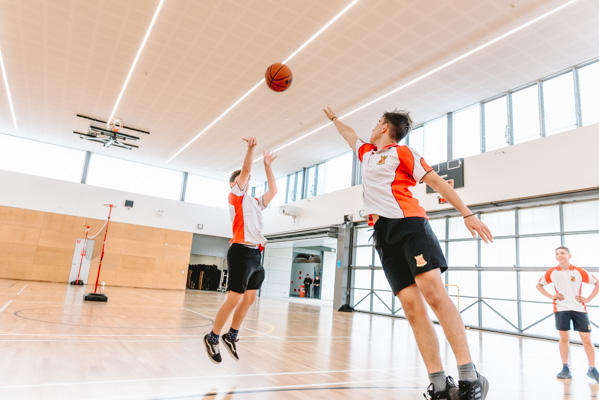 The colleges sporting prowess has continued to grow with an ever expanding sporting scene. As members of the Christian Brothers Sports Association (CBSA), the college competes throughout the year in basketball, cricket, rugby league, football, AFL, futsal, touch football and volleyball as well as taking part in swimming, athletics and cross country carnivals. In recent times, the college has won CBSA championships in swimming, cricket, volleyball, rugby league, soccer and baseball.
As a member of the NSWCCC (NSW Catholic Schools Sports Services), college teams and individuals regularly take part in elite level competition against their peers from other schools across NSW in sports such as basketball, triathlon and cricket.  In previous years, the college has won both the Berg Shield and Downie Trophy statewide NSW cricket competitions.
We regularly have students represent at both state and national levels, in 2018 for example, Year 9 student Christian Jardim was selected for NSW in touch football, Year 12 student Ryan Gray represented Australia in rugby league and Year 11 student Jack Lee was selected for the Australian baseball team.
Other recent notable sportsmen of the college who have gone on to elite level sports include:
Max Esposito – Australian Olympian – Modern Pentathlon
Jacob Host – St George Illawarra  NRL rugby league player
Bradley Kilpatrick and Nathan Dickinson – Australian Schoolboy softballers
Mark Moric – Professional Footballer with Croation club HNK Rijeka
For those not inclined to play representative sport, the college offers a wide variety of internal sporting activities each Thursday afternoon which include chess, ice skating, lawn bowls, martial arts, rock climbing and ten pin bowling amongst others.
Whether it be competitive or non-competitive, team or individual, passive or active, the college provides students with a wide range of sporting experiences to complement their learning experience.
2022 Secondary Sports Model
To all current and prospective Parents and Caregivers.
Please find attached the new model that outlines the delivery of sport at De La Salle College Revesby Heights, commencing in 2022.
Please note: As of 2022, the College standing with the CBSA will not exist. Reference to this in paragraph 3 is void.