Our Catholic school is part of the Catholic Church. We work in partnership with our local parish and priests in order to enrich the spiritual life of the students, staff and families of our school, especially through the celebration of the Sacraments.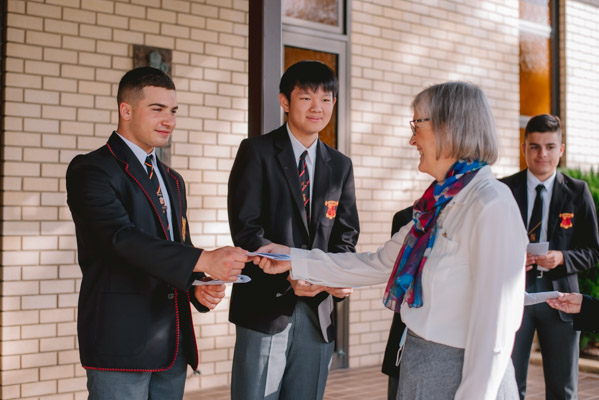 De La Salle College is a Catholic school in the Lasallian tradition and we are deeply connected to our Lasallian charism which is imbued in the nature of the college. Our care is for the "last, the lost and the least" as we seek to live out the three Lasallian pillars of faith, service and community in a spirit of partnership.
Our senior students have the opportunity to self-nominate as Lasallian Youth Leaders. Their service includes leading the Year 7 Retreat, peer support, homework club, ministry at weekend parish Masses and assisting in social justice initiatives. These Lasallian leaders exemplify the peer to peer ministry of the Lasallian tradition being the older brothers to the younger brothers.
Our connection to the global Lasallian network is strengthened through our support of the Lasallian Foundation, through professional development of staff, retreat leadership by the Young Lasallians, our Lasallian Youth Minister. Students are given the opportunity to participate in initiatives such as the Lasallian Youth Gathering, Encounter Days and leadership seminars and forums.
The support of Lasallian Schools internationally goes beyond financial contributions, to include stationery drives, teaching resource sharing, and providing professional development of staff in PNG and Pakistan. Our staff participate in Lasallian conferences and pilgrimages and network with other teachers and leaders across the Lasallian family.