By connecting to the real world of students' lives, authentic learning enables students to become lifelong learners who contribute to society and the wider world as active and discerning citizens. Authentic learning is central to our work as Catholic educators because it promotes the continual growth and wellbeing of the whole person — spiritually, intellectually, emotionally, socially and physically.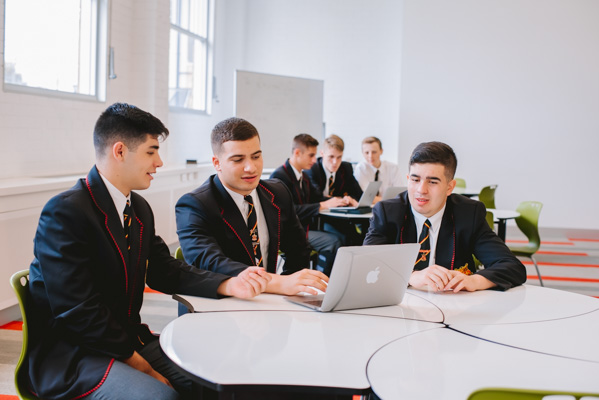 The De La Salle College Revesby Heights Learning Support team uses a multifaceted approach to supporting the various needs of students from Years 7 to 12. The college strives to provide an inclusive environment for all students including those who may have academic, social or emotional difficulties that affect learning.
All students are monitored using information from parents, primary schools and the results of diagnostic tests such as NAPLAN in Years 3, 5, 7 and 9 and other standardised assessments.  Where appropriate, further testing may be undertaken to identify specific needs.  This information helps to inform adjustments for students.
We have a committed Learning Support team who consistently encourage the boys to achieve their best. Staff offer assistance to identified students within the classroom, in small group settings as well as providing one-to-one support for some students. Reasonable adjustments in the learning environment ensure high quality learning for students with specific needs.
Special Provisions for in-class assessments and examinations are accessible to students in situations where eligibility criteria are met. This process is formalised with NESA in Year 12, when further documentation is essential.
Student Individual Adjustment Plans are formulated for identified students. These plans are developed in conjunction with members of the Learning Support staff, families, the student and other stakeholders. Individual Plans are designed to guide students and teaching staff with strategies to help produce the best outcomes for the student, as well as promote their social and emotional wellbeing.